Renewing Hope on #GivingTuesday

Make a difference in the lives of at-risk youth and families in the Metro! Your donation will directly impact countless youth through our outreach programs.
On Giving Tuesday, dozens of local companies are matching their employees' donations of $25 or more, so your gift can have DOUBLE THE IMPACT!! Here are just a few local Omaha employers that do offer matching funds:...
-First Data               -Mutual of Omaha
-State Farm            -Union Pacific
-Paypal                  -Yahoo
-Wells Fargo          -Bank of the West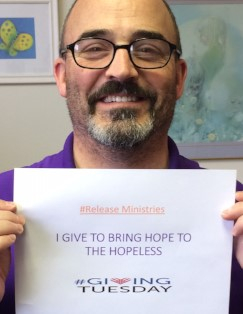 Help spread the word about Release Ministries on
social media, sharing your reason for giving on Facebook,
Twitter and Instagram. Use #GivingTuesday,
#IAmGiving#WhatAreYouGiving and tag
@ReleaseMinOmaha. Take photos to post and challenge
your friends to give and share their reason as well!